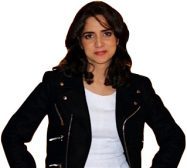 Sonali Aneja
Promoter-Director
Bright, vivacious and with an infectious zest for life, Sonali Aneja spells true sunshine – her life a living testimony of that of a winner and a leader.
Born and educated in the heart of South Delhi, Sonali is a Psychology Major and has also studied in the United States. She delved into the varied nuances of the human mind, and chose to pursue her entrepreneurial expression, amongst others, in the fashion business. Her business exploits made her travel far and wide, and she today is a true style icon – seasoned and recognised.
An entrepreneur, a strategist, an artist, a financial expert, a home designer, an administrator and a mother – she epitomizes all women and tirelessly works towards raising the bar each day. Sophisticated and charming, committed to her yoga and meditative practice, Sonali exudes both passion and inner stability.
Sonali brings to Ojas, a forte and experience that is invaluable and inspirational.
Blending the strength of Indian 'know-how' and specialties with international quality requirements, Sonali is a leading figure from the country in the global business scenario, yet entirely 'Indian-at-heart'.
Sonali is an authority in regulating and maintaining standards – equipment and infrastructure, manpower, quality processes, shipping and international banking. Strong with setting up and running Manufacturing, Production, and Export functions, she has set up highest AQL standards across industries, provisioned unparalleled service and supplied irreproachable deliverables, time after time.
Highly sought after, she possesses enormous talent and specializes not only in growth and development of the companies, but also in reviving flailing business ventures into profitable operations through her unflinching administrative, negotiation and transactional abilities.
The DNA of our fashion apparel business, stemming from her, sets the tone of femininity, elegance and above all, freedom of expression. Heads turn and orders get written, when models ramp the timeless clothing created by us, in the offices of leading international luxury brands across the world.
A strategic pioneer, Sonali's word carries the weight of her wealth of exposure and commitment to excellence. Absolutely original, an obsession with perfection, her quest for the most magnificent creative outcome in any field, makes her one of a kind.
It would be no overstatement to say that there would be few to parallel her, world-over.