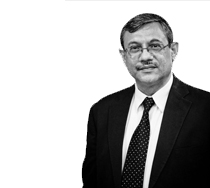 Director with HCL Technologies, Rajiv Sodhi's acumen to spot new technologies globally and his insights in that area, have put him at the helm of the industry.​
Mr. Sodhi has over three decades of IT experience, of which many years have been spent in the domain of developing and implementing Robotics and Automation initiatives across all business verticals of HCL Technologies. At HCL Technologies, he held several senior positions during his tenure of 18 years and has worked in areas of Enterprise Transformation Services, Offshore Delivery and Product development, helping to transform the global workforce and workplace through product competitiveness and its delivery, in areas of manufacturing, healthcare and public service verticals across international markets – these include the USA, UK, Switzerland, Netherlands, New Zealand, Malaysia and Bahrain. Other positions held by him at HCL have been, Head of Offshore Delivery for HCL James Martin and Company, Head of Sales and Marketing for offshore projects worldwide, and member of the Mergers and Acquisitions team.
Prior to HCL, he has spent 16 years with TCS where he was responsible for managing Offshore Development Facilities in India as well as Sales and Marketing operations in USA and the UK.