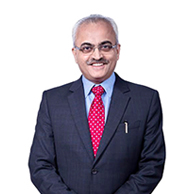 Currently, Director and COO, IDFC Bank, and with over three decades of experience in the Banking and Financial sector, Avtar Monga is a leading expert in the industry, with a wealth of knowledge and consumer insight about its future, which he believes shall be shaped by technology.
Prior to joining IDFC, Mr. Monga has served with the Bank of America as Managing Director- Global Delivery Centres of Expertise (GDCE) where he was responsible for managing strategic partner relationships with clients for delivery of Technology and Operations across the bank's service verticals. He lent his expertise to Data Centre Management, Finance and Accounting, Analytics, Operational Risk and HR across multiple lines of businesses and geographies. He also established the 'Captives' known as BA Continuum across India & other international markets- Costa Rica, Mexico and the Philippines. Before that, he was with GE Capital, playing a vital role in their management team in establishing the credit-card joint venture with State Bank of India, which went on to become the fastest growing Visa business across Asia.
He also previously served as Chief Executive Officer for GE Capital Business Process Management Limited and as Chief Executive Officer of GE Capital Transport.